ACTIVATE YOUR SYNCHRONISTIC FIELD.
MASTER MANIFESTATION.
Discover how to transform your living moments into your desired reality. 
Because When it all clicks in, it ALL CLICKS in.
Activate Your Magic- Book Your Call Now
MASTER THE SYNC -  FREE MASTERCLASS
---
"Master The Sync" is not just your average  Mainstream Manifestation Masterclass;
it's a movement towards a new era of empowered, embodied creation. 
READY FOR SOMETHING NEW?
Ready to shatter paradigms and expand your personal and professional growth?
Enter SINATIA – the home of revolutionary spiritual technology and manifestation mastery.
At SINATIA, we don't just teach; we transform. Our programs are not lessons, but life-changing experiences, offering you the keys to unlock realms of power and magic previously untapped. Here, you don't learn about manifestation – you become the manifestation.
Experience the raw, unbridled power of our teachings, each designed to embed deep within you, the connection of your very essence. This is pure, potent magic – tangible, real, integrated, and transformative.
Accelerate your life, supercharge your business, and awaken an inner strength that's beyond imagination. SINATIA is not just a step forward – it's a leap into a world where you command your reality.
This is not just an evolution; it's a revolution in your hands. The power, the magic, the transformation – it's all here, waiting for you.
Step into SINATIA. Step into your unparalleled potential. Your journey to mastery begins now.
EMBODIED EVOLUTION
---
DEEPRICH
 Starts December 13th 2023 
WHAT IS POSSIBLE FOR YOU WHEN IT ALL CLICK IN?
Mastering Manifestation through Multidimensional Technology and Heart Frequency Alignment.
When it all clicks in, we feel supported by life.
When it all clicks in, we learn what we are made of.
When it all clicks in, we learn how to develop a relationship to high level intuition.
When it all clicks in, we start to understand what it means to be aligned.
When it all clicks in, we become the bridge between our now self and our future self.
WE ARE ON A MISSION. WILL YOU JOIN US?
JOIN DEEPRICH
MANIFESTATION + BUSINESS MENTORSHIP
---
COMPASS
 Live Membership  
Learn to Master Manifestation. How you create what you create in your life is the end and the beginning of your spiritual journey. The Soul came here to learn how to create. Karma, timelines, struggles, healing etc. are all part of the template of creation that lives in you. So instead of moving through blocks one by one, look at the creation of your life as a whole and learn how to interact with it.
Inside of COMPASS Membership you learn how to level up your intuition, alignment, manifestation and business. Soul Mission work is a massive field of expansion in your life. When you become the navigator of that by understanding your compass, you become an unstoppable force of creation. 
This Membership includes 4 Calls a month: Manifestation Alignment, Portal Alignment, Business Alignment, and LIVE Group Business Coaching. Weekly calls are Tuesdays at 10am PST. Join a community of Soul Led creators that desire mastery and align with your vision for what you are capable of. Living, breathing, embodied soul potential.  
JOIN COMPASS
LET'S PLAY A GAME..

SINATIA is pioneering a new way to expand our conscious evolution.
Want to play a consciousness game to expand your awareness and unlock an entire years worth of magic? 
The 13 is the first of it's kind Soul Playing Game - together we form a not-so-secret-society playing 13 The Path of The Enigma. 
Soul players embark on a transformative journey through the 13 Steps of Soul Transformation. Each step represents a unique quest that challenges players to explore their senses, creativity, power, and personal growth.
The13 is an experiential consciousness journey tailored to individual experience and personal growth. During this journey you will learn about your Soul's potential and develop an internal language of spiritual strength and freedom.
We are a community focused on Soul growth, growing our community.
JOIN THE 13
SINATIA App
Access all our programs, courses
& community with the Sinatia App
Download from the app store for iOS & Android 
MORE ABOUT THE APP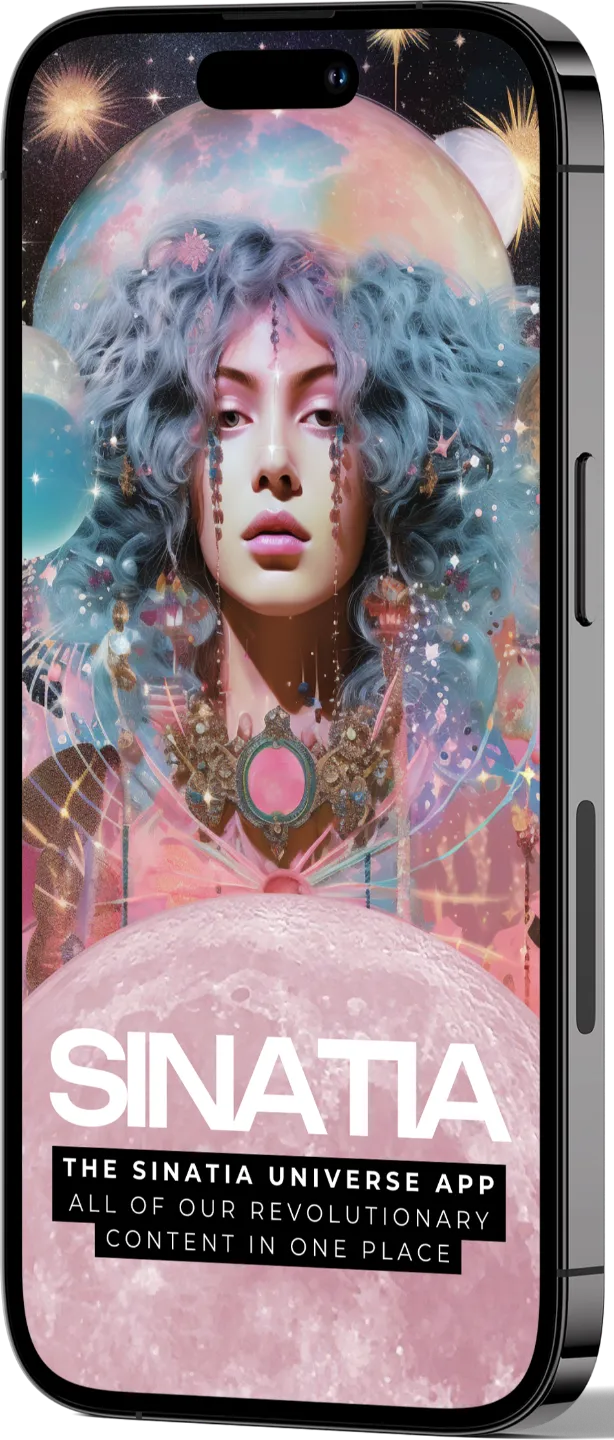 HI - I'M TIA MARIE.. 
I help clients identify the sensation of potential connected to their soul calling and master manifestation. I help clients become embodied as living brands. I help clients upgrade their consciousness systems to live from Higher Intelligence. I am on a mission to create unimaginable magic in the world AND you want to mentor with me,

 

I want to connect with you. 
SINATIA is a growth accelerator. Our work helps you click into a sense of inner power and awareness that operates as a foundation for everything you desire to create in your life. Underneath this intention, we study how to connect to sensation, define edges, breakthrough them, and master our sense of reality. We teach on reprograming the fear mind, manifestation, business & leadership, branding, and energetics.
---
DIVINEOS
 Activate Your Higher Inteligence 
DIVINEOS The Divine Operating System is a simple, powerful daily tool that helps you move data through your system in the direction of your choice.  This revolutionary Mindset upgrade corrects any lingering distortion in your system and allows you to meet your natural gifts as a creator. 

Together, let's take a step towards sovereign creation with the power of awareness and choice. 
GET DIVINEOS - $111
MANIFESTATION + EMBODIMENT + MAGIC
Multidimensional Technology..

"Multidimensional Technology: An Evolutionary Leap in Manifestation and Embodiment. Our approach transcends traditional human programming, unlocking the potential of higher intelligence and the magic within. We guide you towards a life of intentional living and energetic expansion, where manifestation is not just a concept but a tangible reality. By embracing this technology, you align your mind and heart, freeing yourself from limitations and stepping into a truth-empowered existence.

Our work is focused on pioneering journeys of self-discovery that facilitate an integration of mind, body, and spirit, activating consciousness to engage with your higher self. Embodying this technology means transforming your life's narrative, leading with emotional intelligence and self-leadership, and exploring the depths of your soul. It's a circular language of life, engaging all senses, to not only conceptualize but become the center of your transformative experience."
Enter to win a year long Membership to "Activate Your Magic" when you join our email list
Manifestation Tech + Magic Content Only. No Spam.